How to use
It is not easy to search for KPOP maps among Beat Saber custom maps.
So kpopsaber supports searching only for KPOP songs.
1. Search methods
Three search methods are supported.
Integrated search: Search by entering keywords (song title or singer name)
By Singer: Show the list of singers and search for the singer's song by just selecting
K-POP Pack: Provides song information for each KPOP pack
2. Preview LISTEN / DOWNLOAD
You can preview the song you want from the search list, and you can download it right away.
3. wish list
Select your favorite(♥) song from the search list.
You can view your favorite songs by selecting the wiishlist(♥) menu at the top.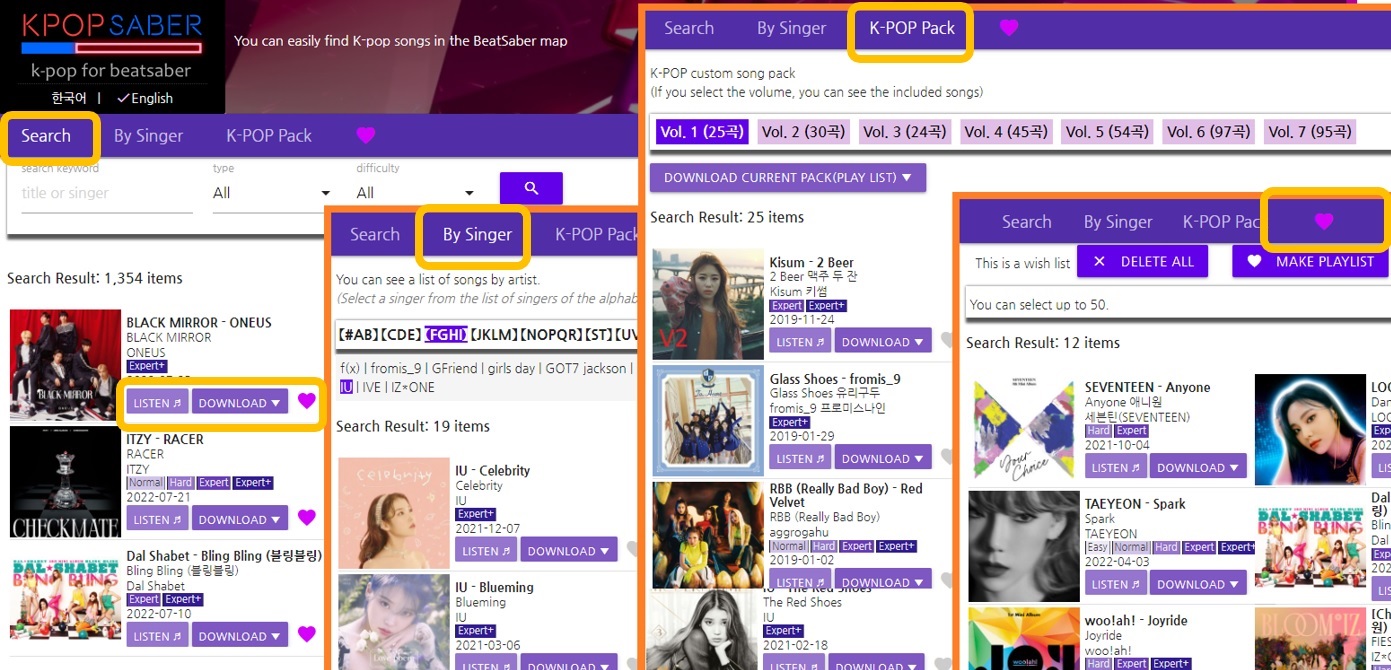 4. Make a playlist
Enter the ♥(wishlist) menu at the top and select [Make Playlist] at the top.
Enter a playlist title name and select [Download Playlist] to download a playlist file with a .bplist file extension.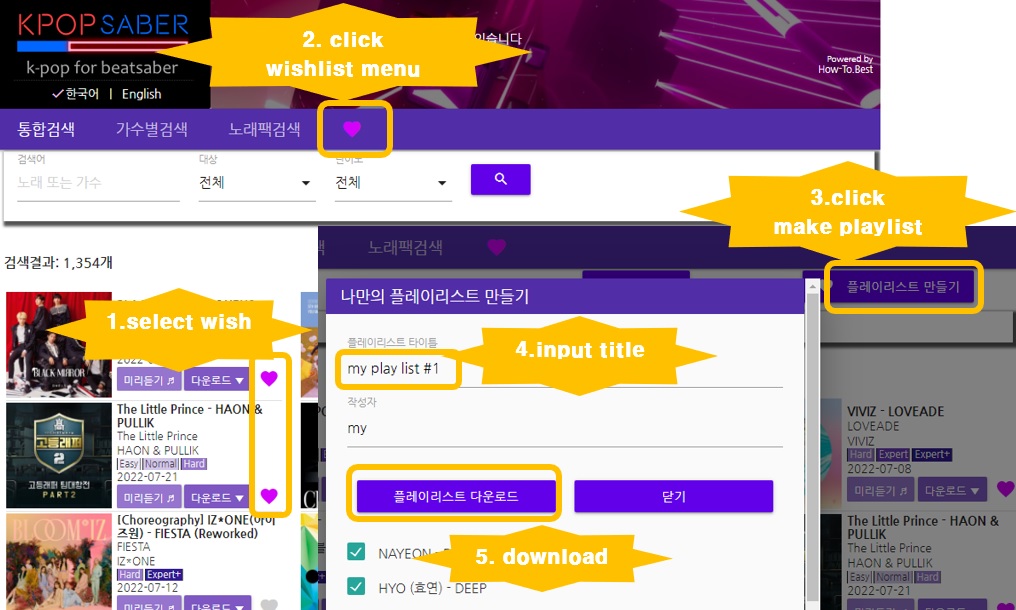 ---
*How to put KPOP custom maps in Beat Saber
There are two ways to put a map in Beat Saber mode, one on PC and one on Quest 2.
Method #1. Connect to Quest 2 BMBF in PC web browser and insert.
퀘스트2에서 BMBF를 실행 > 상단 메뉴 [Tools]메뉴 클릭 > 상단 우측에 접속IP주소 확인(집에서만 보이는 내부IP주소이며, 자주 바뀜)
Execute BMBF in Quest 2 > Click the [Tools] menu on the top menu > Check the access IP address on the top right (internal IP address visible only at home, it changes frequently)
Drag and drop the downloaded song (.zip) or playlist list (.bplist) file into your web browser to enter Beatsaver.
.bplist contains only song list information, and as it is uploaded, maps are automatically downloaded and installed.
When the [sync To beatsaber] button appears at the top, just press it. End!
Advantages: You can download multiple songs from your PC and easily register them in bulk at once.
Disadvantages: The connection process is rather cumbersome, and the network and connection are frequently cut off, so you have to keep touching Quest 2.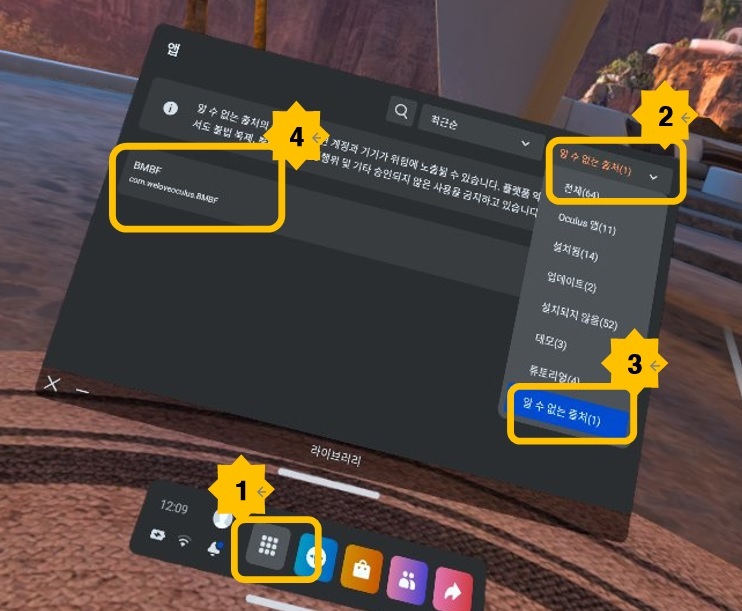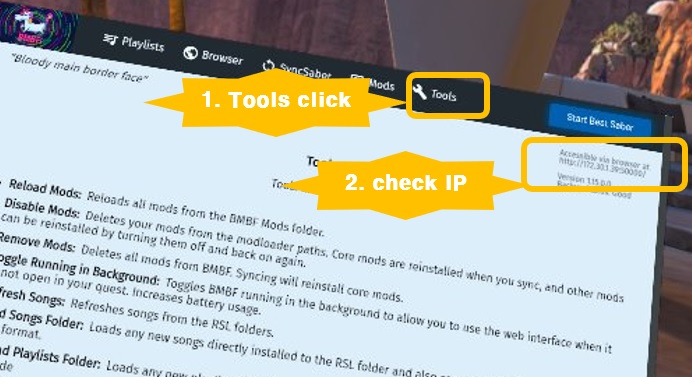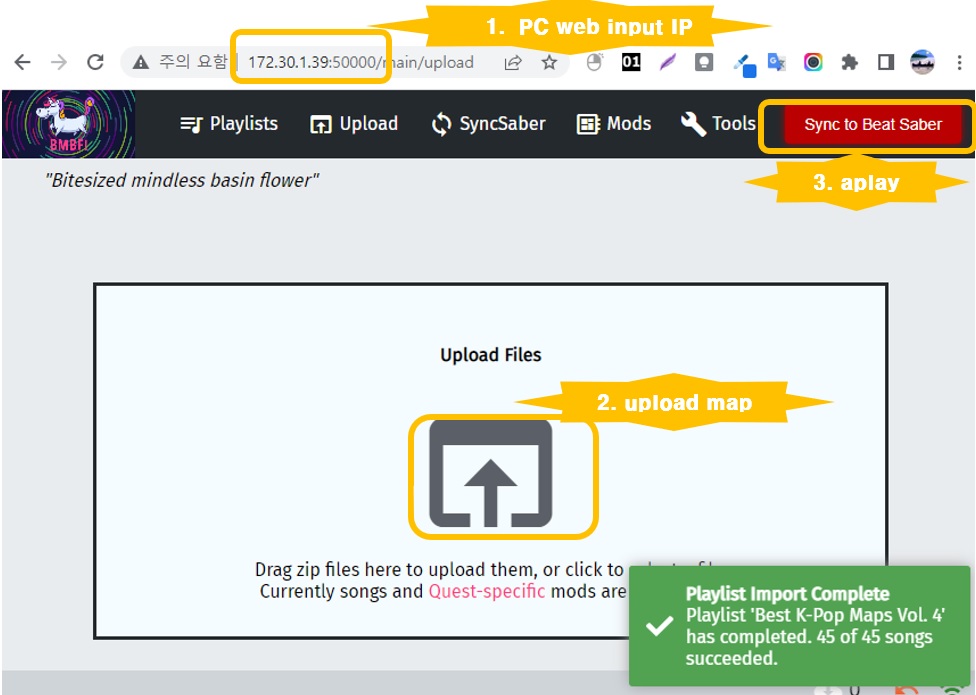 Method #2. Search/download directly through BMBF browser in Quest 2
After running BMBF in Quest 2, click the [Browser] menu
[Browser] > [Choose website] > [URL] > Enter [ kpopsaber.how-to.best ] > The site appears on the top right.
You can download the songs from the PC website or create a playlist of your favorite songs and download them right away.
After adding, when the [Sync to beatsaber] button appears on the upper right, press it and you are done!
Advantages: The search method is as diverse as that of a PC, and it is convenient because there is no connection process with the PC.
Disadvantages: Searching and checking songs is not as convenient as PC.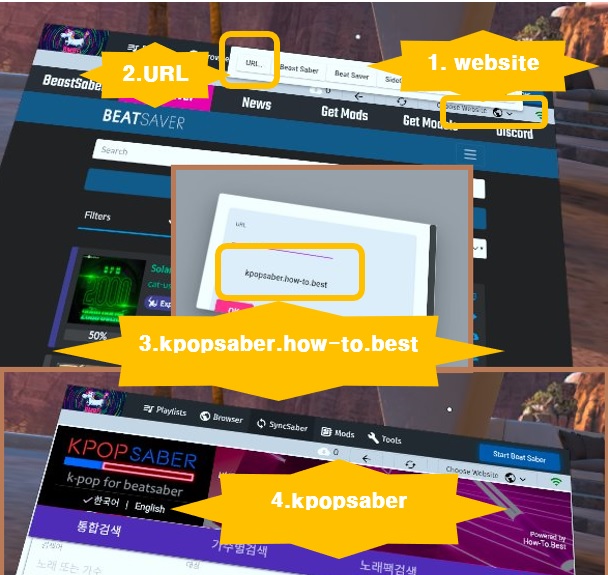 Now look at the list of song packs in Beat Saber. You can view your own playlist pack.
Don't download songs one by one, make a list of your favorites, download them all at once, register them at once, and manage them as playlists! Honey~
*Playlists can also select duplicate songs.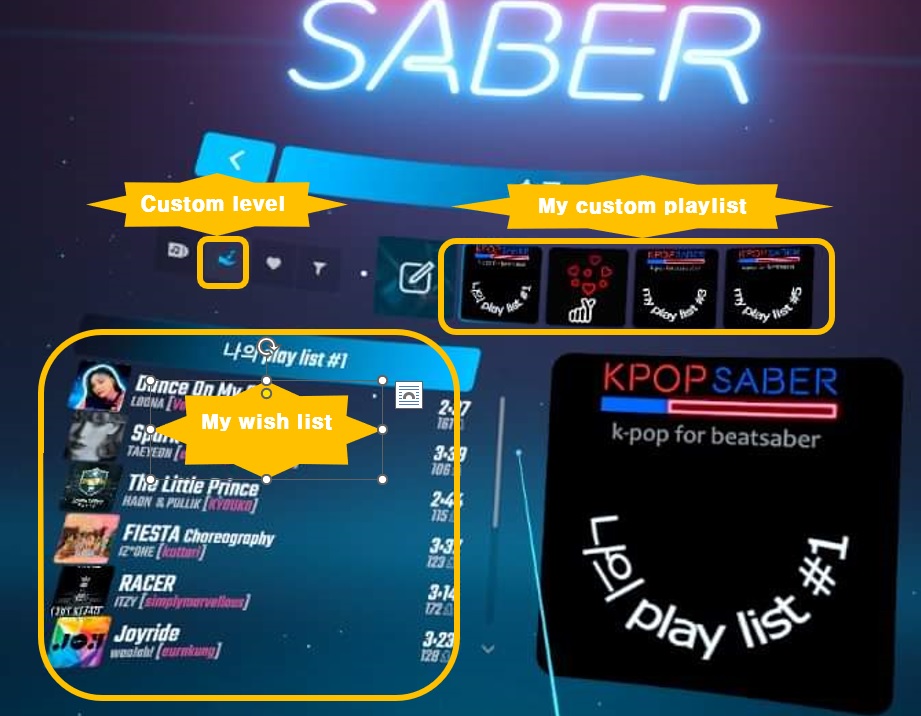 Tip! Manage playlists
You can also manage playlists using BMBF.
You can add or remove songs from the previously registered playlists, and you can also create new ones.

If you connect to BMBF in Quest 2 or BMBF in your PC web browser, the screen below appears and you can see it by selecting the [Playlists] menu.
It's a little easier to work on a PC if you want to make a lot of modifications.
After completing the work, click the [Sync to beatsaver] button on the top right to apply the changes to the beatsaver.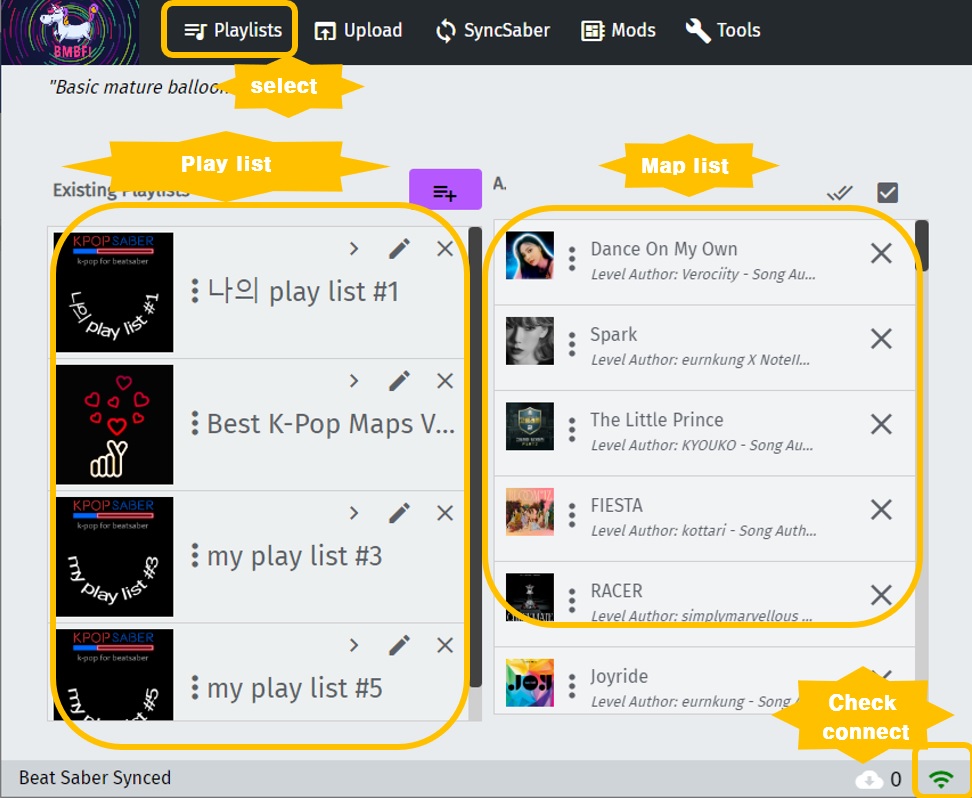 Now that you know how to download, there will be a lot of beatsaber songs in an instant.

Playlists make it easier to categorize and manage, and can also help you enjoy BeatSaber.

Have fun~